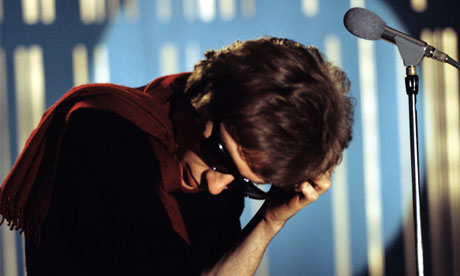 He's lived in the UK for so long he seems like one of our own, but the fact that Scott Walker is an American gave him a unique perspective as an observer of London life and, beyond that, an interesting take on the sleazy / sophisticated allure of what used to be called The Continent. I love this guy, he's my hero. Here's a song that typifies his early observational style, and his way of elevating the mundane to something approaching magnificence.
We now skip forward nearly thirty years to an interesting (Richard Cook aside) little film from 1995, the year of Scott's triumphant return with 'Tilt'. That's almost twenty years ago, but I still can't quite get my head around how he arrived at that record...then he went and made 'The Drift' and 'Bish Bosch', even more enigmatic works. But then, that's genius, I suppose - it's not for us to understand how it happens, it's enough that it does.
Finally, on this whistle stop tour of a sixty year career, here's the centrepiece of his latest album 'Bish Bosch', which came out last year. It's over ten minutes long, but stick with it, it's an amazing piece of , well, it's an amazing piece of everything - it goes beyond just music.